Hey everyone, I know it's been done to death but I thought I'd ask on here before paying someone £££s to replace/diagnose/repair....
I'm picking up a 2006 Micra 1.6 160sr tomorrow - it's only done 66,000 miles and has full service history, but when I test drove the car the power steering was very heavy. It weirdly felt more heavy when driving, but when parked going from lock-to-lock seem ok(ish), there was no groan from the power steering system. A quick google and I read about that they have an EPS motor on the column rather than a PAS hydraulic pump on the steering rack. If it was just a groaning/tired PAS pump I could probably replace that myself, but this EPS motor thing is above my skill level to replace.
I am wondering if the steering is just supposed to be heavy on the 160sr? I've done a lot of searches on here and someone said that from 2006 onwards Nissan had more or less solved all the problems with the EPS motor and generally speaking from 2006 onwards there are less problems, so maybe I am just imagining this heavy steering?
Or maybe this is the first stage of the EPS motor failing = more and more heavy steering and then eventually the PS warning light comes on....
I have read different things about getting the EPS motor replaced = some say you can fit a remanufactured/refurbished motor and then get the ECU reset to fix everything. But others say you can only replace it with a brand new motor direct from NISSAN?
I spotted these guys on eBay (about 20mins from me) who sell the 'Remanufactured' TRW motors for £325 with a 18month warranty and can fit the motor for an extra fee, has anyone used them at all?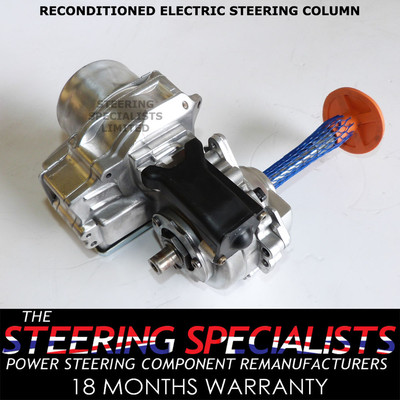 NISSAN MICRA K12 REMAUFACTURED POWER STEERING COLUMN. 2003 TO 2007 RIGHT HAND DRIVE. Sun: Closed. Sat: 08.00 – 12.00. Mon - Fri: 08.00 – 17.00. Our Garage - We have our own purpose built garage & a 10,000 Sq Ft Factory with onsite fitting available.
I managed to haggle the garage down a few quid because I pointed out the steering was heavy (also the suspension seemed to have quite a lot of body roll/a bit bouncy?).
Appreciate your help - I know it's been asked before but I don't want this 'cheap' car to turn into a money pit.
Thanks in advance,
- Guy