Hi,
I am on the search for a budget suspension setup.
I currently have 35mm lowering springs on the stock shocks and the handling was a MASSIVE improvement over the stock setup, mainly due to the springs being progressive rate so they stiffen up under load, and also being lower means a lower centre of gravity, and so the body roll is massively reduced.
However, I now want to further improve the handling - not bothered about lows too much, mostly just handling.
Would ideally love something like BC Racing Coilovers but 'budget' is an issue with them costing £700.
Whats the next best and reasonably cheap thing? I've had a look on Japan's Yahoo Auction and seen loads of March K11 coilover kits for cheap but they are all damaged lol.
I've read on here than Corsa B coilovers are much too stiff for a daily.
Appreciate any help.
Has anyone tried these or have anything good to say about them?
someone reviewed them on ebay and said
'Car drives completely differently now. Nearly eliminated body roll and yet smooth and stable at speed.'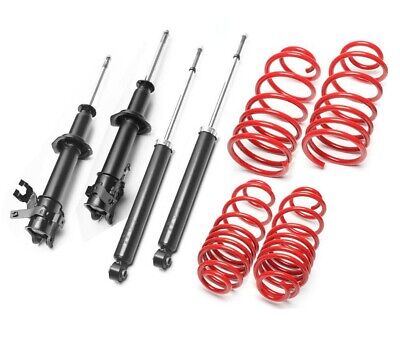 Ta technix Sports suspension for Nissan Micra type K11. Parts manufacturer: ta technix. TA-TECHNIX LOWERING SUSPENSION / SPORT SUSPENSION 40 / 40MM FOR for Nissan MICRA K11. The driving behavior is positively influenced in curves, as the suspension travel is shorter and the shock absorbers are...