Online Trader
Official MSC Trader
It's time for an offer that we know you've all been waiting for...Opie Oils are offering
15% off
ALL
Millers Oils Nanodrive CFS Engine Oils
! - but be quick, this is for a limited time only and ends at midnight on Thursday 17th March!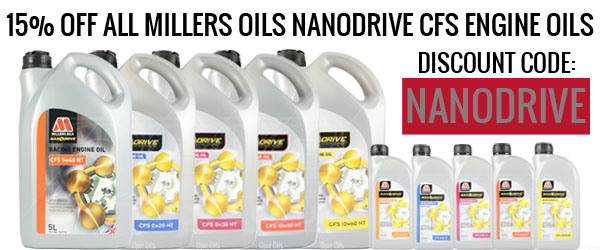 To get this limited time offer, just use the code:
NANODRIVE
at checkout and your 15% discount will be applied.
Have a look through the links below for the full range on offer, prices shown are with the offer in place:
Millers Oils Nanodrive CFS 5w-40 NT
-
5 litres NOW £47.50
Millers Oils Nanodrive CFS 10w-50 NT
-
5 litres NOW £49.23
Millers Oils Nanodrive CFS 10w-60 NT
-
5 litres NOW £52.67
Millers Oils Nanodrive CFS 0w-30 NT
-
5 litres NOW £59.46
Millers Oils Nanodrive CFS 0w-20 NT
-
5 litres NOW £66.26
Those of you that use this range of oils will already be aware of their quality, for those of you that don't, there are a multitude of benefits to be gained from its use. Millers Oils Nanodrive CFS is a competition fully synthetic triple ester Nanodrive oil, suitable for fast road, street, modified engines, race, rally, sprints and hill climbs.
Developed by Millers Oils highly acclaimed team who are responsible for the highly successful NT Gear Oils that won World Motorsport Award for best new product in 2009, the Nanodrive engine oils are specifically targeted to release power through friction reduction but also maximise wear protection. The Nanodrive formulation reduces friction by the use of spherical nanoparticle structures within the oil that actively fill rough metallic surfaces making a "tribofilm", which means an ultra smooth surface. The groundbreaking formulation reduces load friction at extreme pressures even in stop start driving conditions, meaning less component wear and increased power.
If you're planning on doing an oil change, it might be an idea to get a filter too - we stock a huge range from brands such as
K&N
,
Pipercross
and OEM quality filters from
Mahle
. Just use
THIS
handy look up guide to find the right one for you!
Looking to get the work done over the Easter Weekend? We'd recommend getting your orders in ASAP in time to avoid the bank holiday rush!
Remember to keep an eye on our
OFFERS
page for all of our discounts and promotions!
Simply give us a call on
01209 202 949
Monday to Friday 8:30-5:30 or drop us an email to
[email protected]
if there's anything else that you need, we'll be happy to help and offer free and impartial bespoke advice, tailored to your specific vehicle and the use it's getting.
Until next time folks
-Oilman